Motorcycle Accidents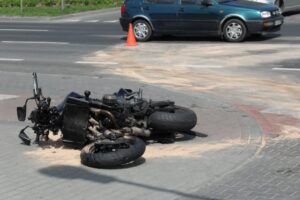 Motorcycle accident victims have a tougher time collecting compensation from a negligent driver than victims of car or truck accidents. Many jurors are biased against motorcycle riders and are all too quick to believe insurance company allegations that the motorcyclist caused the accident due to aggressive or reckless driving. To make matters worse, Florida insurance laws treat motorcyclists less favorably, making it harder for them to get medical care and compensation after a crash.
At Slater | Grant, our attorneys have successfully represented motorcyclists in motorcycle accident cases, including a $2.15 million recovery for a young motorcyclist who was killed by a truck driver. As in most motorcycle cases, the insurance company tried to blame the motorcyclist for driving recklessly.
In motorcycle accidents, insurance companies for the at-fault driver try to pay you as little as possible. They tempt you with an early settlement check that is less than the claim is truly worth and leave you without enough money to cover your future medical bills, job losses, pain and suffering, and other problems.
Contact Experienced Tampa & Wesley Chapel Motorcycle Accident Attorneys
Slater | Grant takes pride in helping clients navigate the complicated legal and insurance process to make sure our clients receive the money they deserve, so they can recover and move on with their lives. We take the burden off your shoulders. If you hire Slater | Grant, you will get a dedicated team of attorneys and staff who work hard on your case, keep you updated with active communication, and treat you like family, not a number. And you do not pay anything up front — we get paid only if we recover money for you.
Fill out a free case evaluation request to see how Slater | Grant can help you with your motorcycle accident case.
How The Process Works
At Slater | Grant
Gather

At the beginning, we gather information from you about the accident and your injuries. We then gather documents and records from medical providers, insurance companies, the police, and others.

Investigate

and

Analyze

We then investigate and analyze your claim deeper, reviewing new medical information as you get treatment and procedures, interviewing witnesses, potentially hiring investigators and reviewing surveillance, and taking other steps to help us evaluate the value of your claim.

Attempt

Settlement

Our attorneys then talk to you about the value of your claim and prepare a written demand to the at-fault person or company and their insurance company, requesting that they pay you money. If appropriate, we will negotiate with them and attempt to settle your claim for an amount that fairly compensates you so you can recover and move on with life.

Go to

Court

If the defense is unwilling to pay what you deserve, we will file a lawsuit and take your case to trial. Along the way, we talk with the defense lawyers about settlement to see if their clients are willing to pay you to fairly compensate you for your injuries.